Satire, the New Age and hard-boiled detective novels collide in my new mystery: SANDY BOTTOM. Just back from

Guate

mala after three years of tending bar on Lake Atitlan, part-time shaman and New Age dick Natty Dredd Bumpo returns to Traverse City, Michigan, where he finds himself plunged head-first into solving the murder o

f millio

naire eco-warrior Timothy Bottom.
Complicating matters, a Russian femme fatale, a crystal skull, an

d

a grumpy gator

a

dd to the mayhem that could get Bumpo killed, or worse.


CLICK ON THE PHOTO TO ORDER



Thanks for stopping by. This website offers a bit about my books and what's new, including:
- My new novel, Bicycle Hobo
- Windigo Moon
- Planet Backpacker
- Biking Northern Michigan
- I Promised You Adventure
Check out my facebook page for the latest news

and

musings on the writing life.
EASY READER: "Bicycle Hobo," a thriller of revenge on the road. It's "Moby Dick" and "Don Quixote" re-imagined as a lone cyclist spends three years on a 90,000-mile quest to avenge the death of his wife.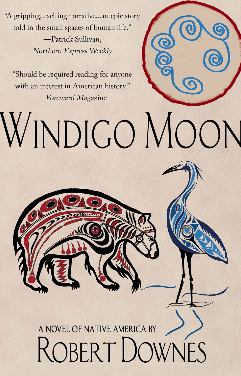 My award winning novel of the Ojibwe - set 400 years ago.

- 1st Prize 2014 Grand Rapids ArtPrize for the first chapter
- Gold medal: Best Regional Fiction, Great Lakes, from Independent Publisher magazine
- Honorable Mention: Best Fiction, from Foreword Review

Rest in Peace, planetbackpacker.net 2008-2017.

Books of High & Low Adventure...